Reindeer Herders Tsaatan Dukha Tribe Mongolia | Adventure Tour| Nomadic Trails
Now starting from 500 USD per.person – was 2420 USD. Only in June and July 2020
In this special 2 week (15 days / 14 nights) expedition is based on jeep supported, tented camping and horse or reindeer riding by visiting people to people, tribe to tribe in the some of the beautiful scenery. Extraordinary trip to Reindeer herders, Tsaatan Dukha visit in Mongolia or one of last forgotten people in a Asian continent. We proudly say these people is closest to the nature by living on Siberian edge, north Mongolia. Create Your Own Trails to one of the most attractive places of Mongolia.
This is one of our signature tours since 2007. 
About Reindeer Tribe:
They are nomads, who did travel along Russia Mongolia border in the Siberian Taiga region up until 1950's. The border was tightened up by both countries, "Tuva region" was left out of Mongolia. This tribe people had to make a decision whether they want to stay either Mongolia or Russian side. They did split up and stopped travelling back and forth along border areas since then. These reindeer herders, known as Tsaatan or Dukha Tribe Mongolia.
The tribe who settled on the east bank of Shishged River and called "East Taiga Tsaatan", ones settled west bank of river called "West Taiga Tsaatan". Reindeer Herders are living in most remote corner of Mongolia, only 320 of them exist today.

This Extraordinary Reindeer Herders visiting tour more suitable in summer period mainly according to pleasant weather in north  Mongolia. This trip allows you more comfortable riding and more connect to the local herds people…
Find out "Foundation of Reindeer Tribe of Taiga"   run by both Local Reindeer Community & Nomadic Trails.
—————————————————————————————————————————————————–
Tour Itinerary

Day1: Ulaanbaatar
We meet you upon arrival and transfer to hotel.  Dinner and hotel overnight.
Day2: Ulaanbaatar/ Murun
After breakfast, we transfer to airport to take a midday flight to Murun, north most getaway town and transfer to our ger camp. Then we prepare our trip to north. Load our food supply here.
3: Murun- Ulaan uul Village- Bayan  uul
This morning we drive to Ulaan Uul village for 170 km. There are several rivers and 2 other mountain passes we will pass. We visit to small glacier after a lunch.  We continue drive to Bagtag River. We set up our camping in the pine tree Mountain Bayan. Dinner and overnight.
Day4: Bagtag River Valley / Tsagaan Nuur village/ Khogorog
After a breakfast, we drive to Tsagaan Nuur village, smallest village in Mongolia. Lunch at Tsagaan Nuur Village.
Day5: Khogorog- Taiga
After breakfast, we start riding to East Taiga (South Edge of Siberia). We need to ride for 7 hours including lunch break. There is a high pass with ice and snow but terrain is amazing and peaceful. Taiga riding is a bit difficult comparing to steppe or somewhere else. Because it involves some obstacles like bogs, pine trees, lot of small streams, bushes and some steep riding.
When we get close to reindeer herders, you will start seeing Indian looking Tee-Pees with chimney with smoke, rein deer herds are just walking next to you and hearing mixed sound of dogs barking, kids playing and women making tea valley and food in the pine tree mountain just like in the movies. We have a lunch and dinner with rein deer herders. Overnight.
Day6-7: Taiga, magical place
Full day of rest. We experiencing local herder's everyday life and a chat with rein deer herders and discuss with them medical herbs and flowers. Rein deer herders so eager to explain you what flower is good for which part of your organs and so on. In addition, they are great at healing with nature. You can see some rare flowers and wild animals in this region.
Day8: Taiga/Khogorog River Valley
We have a breakfast and leave rein deer herder's camp. We ride through Taiga and arrive to Khogorog river valley.
Day9:  Khogorog River Valley/Sharga River
This morning we drive to Sharga River, in the great meadow. Good walking involved here too. There are over 200 lakes in this great Meadow. We set up our camping on the bank of the one of the lakes. Good swimming lake where we can have a sandy bank.
Day10: Sharga River/ Beltes River
After breakfast, we drive to Beltes River on the way back to Murun town. There are numerous rivers to cross and 2 high pass to do. It is driving day. We set up our camping in the pine tree mountain in the wilderness.
Day11: Beltes River / Murun town
After breakfast pack everything and start driving back to Moron town.  We transfer to ger camp and refresh ourselves.
Day12: Moron/Khutag under- Selenge River
After breakfast, we drive to Selenge, biggest river in Mongolia with beautiful mountains scenery. We put up our tents and dinner.
Day13: Selenge River / Amarbayasgalant Monastery Complex
This beautiful morning, we drive to Amarbayasgalant monastery, one of the main important monastery complex in Mongolia. Located in beautiful river valley in the Mountain scenery. There are tall golden Buddha with steps in the valley, big stupa next to it make stunning scenery in the nature.
Day14: Amarbayasgalant Monastery Complex /Ulaanbaatar
This morning we pack and load our car and head to Ulaanbaatar city. We have picnic lunch and arrive in Ulaanbaatar transfer to Hotel.
Day15: Departure
Transfer to airport
—————————————————————————————————————————————————–
Book your "Reindeer herders visit tour" and ask question from Mr. Tulga, Expert of Taiga or reindeer herders visit tour leader or you ask us tailor make your tour.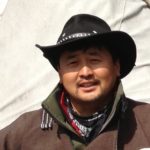 Chingeltei District, 1 khoroo, Express Tower 701
Ulaanbaatar 44 P.O. Box 793 Mongolia
Mobile: +976 8016 1210
When to go Reindeer Herders Place
Depending on weather in Mongolia, summer period; June to September is good to visit as travellers.  Avoiding tourism peak season is good idea, which is June and August to visit. Autumn or Fall is so good period for photographers to capture best color for this reindeer tribe. Winter is extraordinary season to come and visit, for those who wants more adventure seekers or photographers. There are small timber houses with stove heated available during winter. Also, Reindeer Tribe Migration season is allows very good opportunity to capture photos or documentaries. Please ask more advice from Mr. Tulga who is expert on this trip on tulga@nomadictrails.com.

Reindeer
Where does this trip take in Mongolia?
"Murun or Moron" is key town to arrive. Appx. 1 hour airplane ride or 13 hour bus drive to Murun town from Ulaanbaatar city. Please bare in mind to obtain Border permission from Mongolian Military office in Murun town. You will be near to border of Mongolia and Russia. Then you will need to set off to Ulaan Uul or Tsagaan Nuur town in Khuvsgul Province in order to visit Reindeer tribe Mongolia in summer or autumn camp. There could be 2-3 reindeer herder family near to Khuvsgul Lake, where all tourists visit. You might get dissapointed, by seeing them in not their natural home. They might have, up to 10 reindeer with them offering to see reindeer culture. 
Please Note this: You will see 2-3 reindeer herders settlements next to main road from Murun town to Khuvsgul Lake. They are fake settlements and most dissapointing point is those reindeer are only tourist for photos. Some reindeer might ended up dying, because of heat or luck of proper food end of summer season here. We suggest you not to encourage this activity. Thank you. 

North Mongolia Map
Is it dangerous to travel to Mongolia?
Basically, anywhere you travel there is risks and hazards. Avoiding hazards with your local tour leader reduces the any risks to much more low level. According to statistic Mongolia was chosen one of the safety destinations in the world. Even we have impressive statistics, please follow your local travel agency advice.
I can't ride what can I do or how many hours to ride a horse?
Some people who never ridden before took this trip and ended up so happy with their riding experiences.  It is all about using your basic instinct and follow the instructions of your tour leader. It makes everyone's life much easier and you will start enjoying the horse ride.
Horse riding hours depend on which month of the year you are coming to visit the region, basically in between 3-8 hour is norm. Of course there are breaks and lunches during your ride. Horses we use, quite and calm used or experienced horses and our guides, cooks and horse guides are all experienced and trained well.
It would be good to read horse riding tips:https://www.nomadictrails.com/horse-riding-tips-to-mongolia/
Here is short movie of Horse Riding to Taiga, North Mongolia;
How long the trips are?
This trip is basically for 2 weeks, if you wish to extend it with Gobi or western Mongolia is still open! There are some distances needed to cover by jeeps and small amount by horses. Upon your request, we will customize shorter trip 5-7 days for you. Please write us info@nomadictrails.com.

Taiga- Reindeer herders Place
Where do we sleep during the trip
This trip basically designed to use tented camping mainly. 2 man tents and single tents are available. Tented camping based on those sleeping, cooking and restaurant, toilet plus shower tents.  If we needed we will put up luggage tents too. After taking a shower you will feel great in the nature! Nothing compares with this feeling ?
Adding to this we planned to stay in Ger (Nomadic style of dwelling with stove to heat the ger, makes it cozy and comfortable).  One night in a Hut styled cottage is another comfy. Staying in the Tee-pee will be one of the top experiences of all too. You wake up with reindeer in the morning! They can come into your tee-pee, nice!
Bringing your own sleeping bag will be good Idea! Ask your tour leader list of equipment they can provide.

Mutton noodles? I am vegetarian will I ever survive in Mongolia?
Mongolian food- Mutton and noodles- this gone so far away now. Ulaanbaatar city has extended it's territory and it's food source too. Bigger the town or city more choice you will see. Good news is vegetarian and Vegans survive these days in Mongolia!
Beside mutton, beef, chicken, pork and fish can be found in Mongolia.  All those ingredients will make your journey more tasty and delicious. Bon Appetite!

---
Find out "Foundation of Reindeer Tribe of Taiga"   run by both Local Reindeer Community & Nomadic Trails.
⇒ Visit to "Reindeer Herder's Tribe Tour"
Other read -click a link:
1. How to visit to Tsaatan Reindeer Herder's Tribe Mongolia
2. WINTER camp of Tsaatan Dukha Reindeer Herder's Tribe Mongolia
3. SPRING Camp of Tsaatan Dukha Reindeer Herder's Tribe Mongolia
4. SUMMER Camp of Tsaatan Dukha Reindeer Herders's Tribe Mongolia
5. AUTUMN Camp of Tsaatan Dukha Reindeer Herders's Tribe Mongolia
6. Pictures of Reindeer Children
7. Reindeer Festival 2019 Video & Photos

Nomadic Trails: Best tour company in Mongolia I say
I have just returned from the trip of a lifetime in Mongolia. It was my third visit (first with top notch tour company, second independent with guide/driver – budget version) and it was my best. Mainly due to the tour company – Nomadic Trails (www.nomadictrails.com). Cannot recommend them enough – professional – with the perfect mix of adventure and comfort. They will take you out to off-beaten (even in Mongolian terms) places but with brilliant support staff (yes, we even got a shower tent most nights – which is total luxury!). I did the Northern Mongolian horseriding trip which includes visiting reindeer herders (spending a night in a tee-pee lent by a lovely lady was a highlight). I'm sure they aren't the cheapest but they are certainly the best (I've done cheap – and let me tell you – having a guide fluent in English, great food, equipment, horses staff etc is worth the extra). So if you are looking for a great company go here – five stars plus  Maybe I'll see you – as I'll be returning with them next year
Fiona,
Melbourne the photographer,
We are now  more or less been back to our normal life.
Thanks again for arranging a memorable
tour in your beautiful country.
We will be back for more!
More…
It took me 2 weeks to physically recover from our trip, the memories will stay for ever.
Thank you so much for looking after us and showing us your amazing country, thank you for always doing it with a smile and bringing much laughter.
It was a very special trip that will have always have it's own place in my memory and my heart.
Amanda Kenny
Thanks for everything!
Wonderful experience!
See you in next year
Michael Hudson
The recce to Mongolia was an unforgettable experience.
The vast open Steppe, the friendly local people, the history, the horse race, the tiny, tough ponies and the food – especially the authentic fare we were able to sample like goat, curd cakes and airac!
An ideal trip for those wanting their first taste of a horse trekking adventure.
Didi Good enough
Mongolia is for those who really want to get away from it all rather than just talking about it…..we covered mile upon mile of the most stunning wilderness scenery, with strictly no mobile phone or email reception to interrupt the reverie for the best part of two weeks.
Bliss. We hardly stuck to the itinerary, but it didn't matter one jot in a place like Mongolia.
The highlights? Camping at some or other place, the land underfoot was carpetted with edelweiss, with a stunning sunset, campfire….and a
bush shower!!!
The perfect night in Mongolia.
Nicolette Krajewski
Book your "Spiritual Tour" with Tulga, tour leader
Bayangol District, 6r khoroo, Aminii Oron suuts 11 7B
Ulaanbaatar 44 P.O. Box 793 Mongolia
Mobile: +976 9904 0894